pembangkit listrik tenaga baterai
April 17, 2012
Riello UPS, part of the Riello Elettronica Group, and a leading European manufacturer of uninterruptible power supply systems, has expanded its popular range of Master HP series UPS to include a new, higher input 600kVA model. Already chosen by hundreds of companies and organizations to power the world's largest data centers and installations, the Master HP range is ideal for the power protection of corporate wide, large network and industrial applications.
Thanks to the double conversion on-line technology achieved with IGBT and DSP (Digital Signal Processor) control, the Master HP series is especially suited for a variety of mission critical applications, guaranteeing maximum protection along with high performance filtering for any type of IT and industrial load.
"Like the rest of the Riello UPS Master HP family, the brand new 600 kVA model is designed to meet the needs of the most demanding installations, offering the highest levels of protection" says Luca Buscherini, Riello UPS Marketing Manager. "With particular attention given to energy efficiency, reliability and compactness; the Master HP 600 model is one of the most compact UPS available today."
The Master HP range is one of the most efficient, flexible and reliable UPS systems available today. The 'Smart Active' function allows the unit to monitor the condition of the mains power, and then selects the best operating mode to maintain resilience whilst increasing operational efficiency to 99%.
When in a parallel redundant configuration (often used in data centers and other mission critical applications), the Master HP 'Energy Saving' function allows the intelligent management of energy consumption with a gradual activation of the UPS modules, depending on the actual needs of the load.In addition to the higher power and exceptional performance, the Master HP 600 is also "Smart Grid Ready".
The Master Plus HP series shares advanced battery management technology with the traditional Master MPS models, to help achieve maximum battery performance and prolonged design life. The unit also features a range of advanced communication and connectivity options for easy remote management.
"With the new Master HP 600" closes Buscherini, "Riello UPS is meeting the needs of clients who not only want secure and reliable power, but who are also sensitive to the overall running costs and efficiency of their facilities"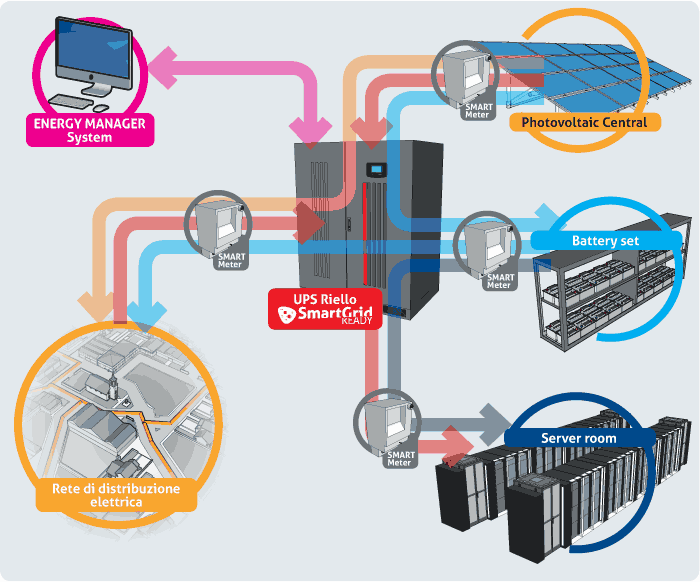 .why meter kubik per hari tidak meter kubik / jam untuk mengukur tenaga surya memompa sistem. Yang memompa didedikasikan inverter solartech surya ini diadopsi untuk mencapai kekuatan maksimum mppt ( titik melacak ) untuk mengatur kecepatan dari pompa itu dan air output perubahan sedangkan perubahan, radiasi sinar matahari jadi, meter kubik / hari adalah satu-satunya standar pengukuran air output untuk solar memompa sistem.
Malang – Satu lagi mobil keluaran siswa Sekolah Menengah Kejuruan. Suryawangsa, ini merupakan mobil solar hybrid buatan siswa SMK Muhammadiyah 7 Kabupaten Malang, Jawa Timur. Mobil ini diakui layak diproduksi dan siap bersaing di pasar mobil nasional. "Mobil ini tanpa emisi, hybrid solar car ini menggunakan energi yang tidak terbatas yakni matahari," ujar guru pembimbing Ahmad Muhtadi seperti dikutip dari Trans TV. Seperti namanya, Suryawangsa mobil menggunakan tenaga matahari. Energi yang diambil dari matahari disimpan di 8 buah baterai berkapasitas 225 ampere. Sekali baterai terisi penuh mobil bisa melaju sejauh 100 km dengan kecepatan maksimum 60 km per jam. Jika cuaca dalam kondisi terik, mobil langsung mengambil tenaga dari surya sementara jika hari tengah mendung mobil akan menggunakan energi yang tersimpan dari baterai. Para siswa pun berharap berharap mobil ini jadi mobil nasional. "Mobil listrik jangan dijadikan ikon sebuah kebanggaan di satu sekolah tapi kebanggaan nasional," ujar Dimas Aditya. Berapa harganya? Untuk pengembangan selama 20 bulan para siswa menghabiskan Rp 250 juta, namun begitu dijual rencananya akan mencapai Rp 110 juta saja.